Progress
Achieving gender balance is a journey and we have made huge progress in transforming women's representation at the top of British business. Our latest report findings, published in February 2023, demonstrate this progress:
FTSE 350 companies have met the target of 40% Women on Boards three years ahead of the 2025 deadline – a huge milestone and significant achievement

We remain on-track to meet the target of 40% Women in Leadership teams by end 2025

The UK's largest private companies are keeping pace with public listed companies, despite this being the first year they have reported.
What's more, the UK are now second only to France and above Norway in the international rankings – testament to the power and impact of the UK's unique voluntary approach.
Women on Boards
The FTSE 350 has reached its 40% target for Women on Boards three years ahead of target; a major milestone worthy of celebration. As at January 2023, there are 1,203 women serving on FTSE 350 Boards, out of a total of 2,990 directorships. A new career route opens up for senior women, which only a decade ago was unattainable.

Just over a decade ago (2011) 152 of FTSE 350 Boards had no women – now there are no All-Male Boards in the FTSE 350 and only one company at "One & Done', with just one lone women on its board. The majority of FTSE 350 companies now have 3 or more women on their board. This is testament to the focus and commitment of FTSE companies.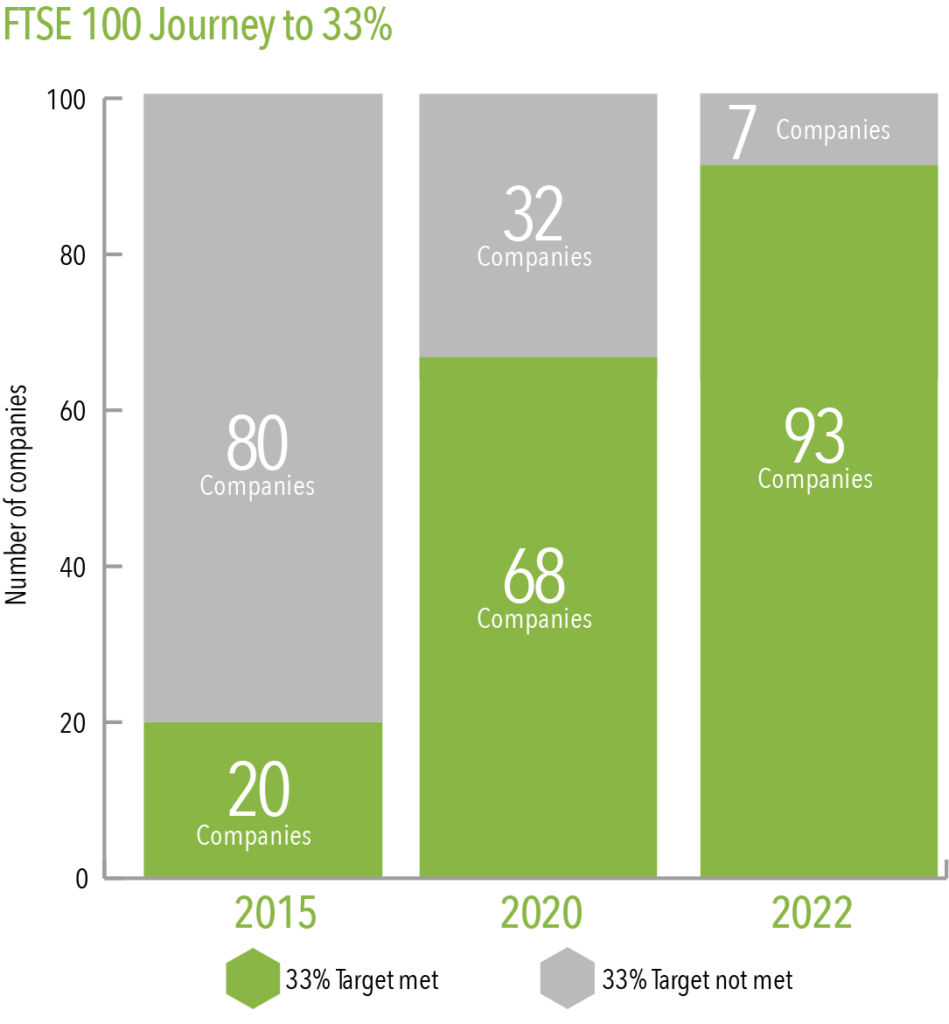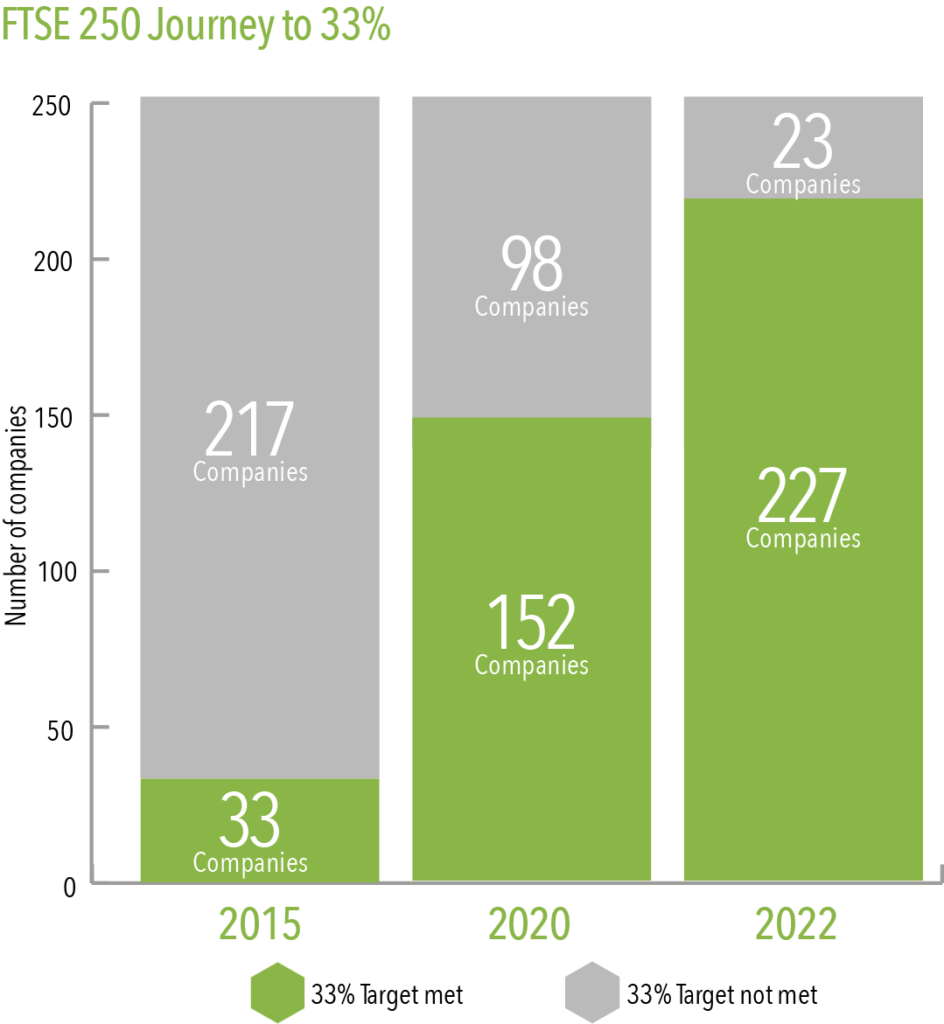 Whilst reaching 40% women's representation on Boards in the aggregate is major cause for celebration; we must not become complacent. Women occupy just 16% of Chair roles and 30 companies have still not met the 33% target set by the Hampton-Alexander Review in 2016.
Women in Leadership
The FTSE 350 has made steady progress with 33.5% of women in Leadership (defined as the Executive Committee and their Direct Reports).

With sustained and increased effort over the next three years, the FTSE 350 remains largely on track to reach the 40% target by the end of 2025.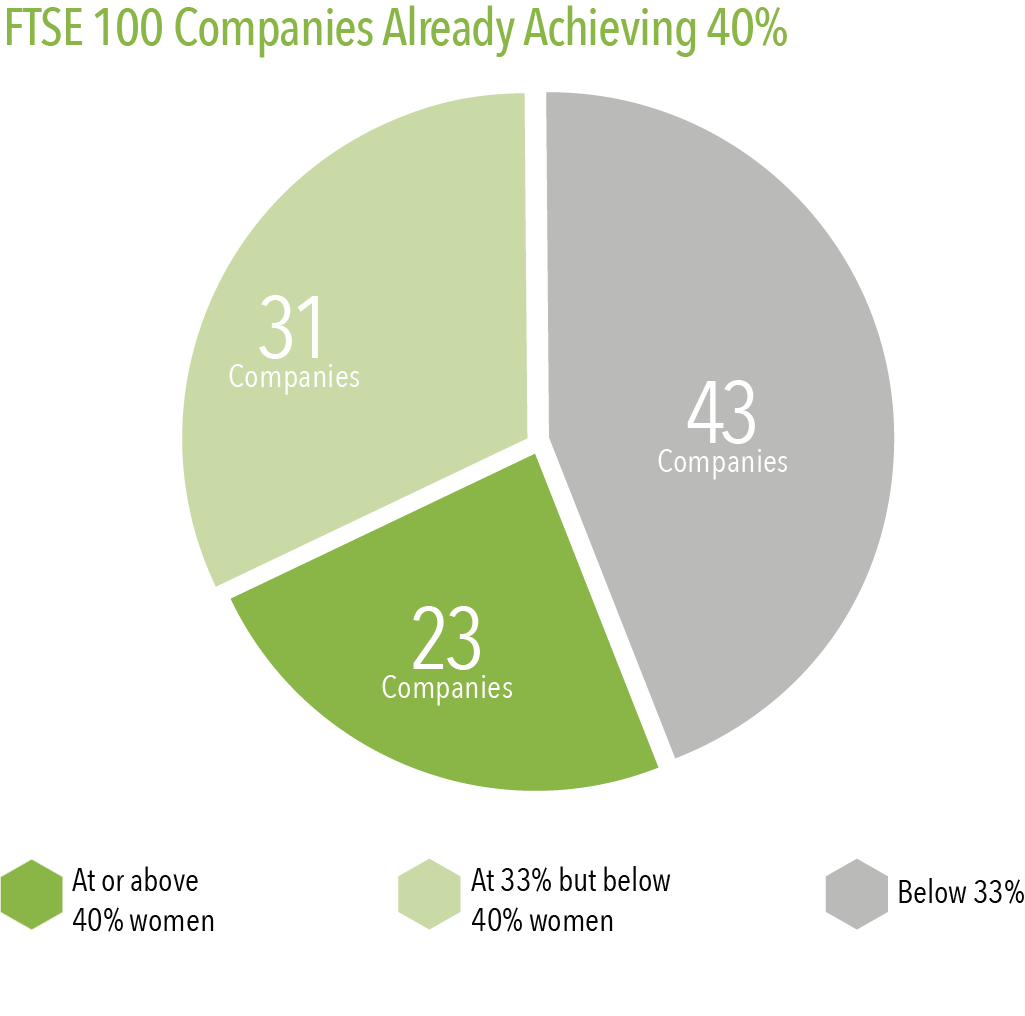 Faster progress is needed in the key roles, where women only make up 8% of CEOs and 19% of CFOs meaning gender balance in these roles is still some years away. Whats more, men are still appointed to six out of every ten of all Leadership roles available in FTSE 350 companies. If British business is to reach its target by 2025, key stakeholders, Investors, customers and employees need to robustly encourage all companies to play their part.
Top 50 Private Companies
Although this is the first year for reporting on the Top 50, it is clear many private companies have been working hard on the diversity agenda – their willingness to participate, as well as the progress made, are evidence.
The representation of women in Leadership across the Top 50 private companies is very similar to the FTSE 350 Index however there is greater divergence on progress at board level.
However, the number of women in one of the four key roles is encouraging; women make up 25% of CEOs and 20% of CFOs. There is clearly more to do, but the ripple effect from the drive in public-listed companies has had an impact, as has changing societal and business norms. For a full list of the top 50 private companies included in scope, click here.